Gallery
Gallery
Map type:
Execution
Filename:
EXE_Gallery
Strategic Info
Objectives:
Deploy C4 on Pylons A or B
Secondary:
0
Ammo Boxes:
x0
Mounted Guns:
x0
New Execution Map: Gallery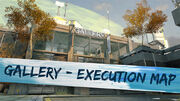 Set in the fading splendor of London's South Bank, the retired Gallery is no longer the bustling jewel in the capital's crown, now acting as a base for the CDA at the foot of their Containment shield. The austere concrete haven's now been hit by a savage Jackal attack, whose Mercs have set about putting the brutal in brutalism. 
Three distinct areas connected by easy routes set the map apart from its Execution counterparts - The Gallery, Smokehouse and Skatepark. 
The Gallery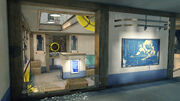 The gallery itself sits at the center of the map, a sad shell of the ark for contemporary art it once was. If Jackal attackers can push through the center, they have an easy picking of either Pylon. 
The Smokehouse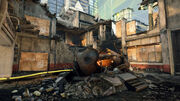 A recent addition to the appropriately named Smokehouse Restaurant was a commercial grade jet engine, falling from the sky under suspicious circumstances. If Jackal heads left from their spawn, they'll pass it en route to Pylon A  
The Skatepark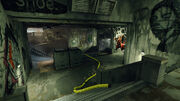 If Jackal heads to the right, they'll find themselves in the belly of a gallery of a different sort - an underground skate park that ploughs up towards Pylon B. 
Gallery's very distinct locations have been created to aid in orientation, so you can better learn the map and communicate your position within it.