Final Assault Update
"It's no use, ma'am...
We've staged three separate attacks on the Containment Shield in the space of two days, but the CDA have already started repairs.
Unless we attack every single pylon at once, that thing is going to hold. MercSERV don't have enough contacts on British soil, and we can't afford an army...
We're running out of... Sorry? A Holo-what?"
THE END OF EXECUTION
Objective and Stopwatch modes have always been our bread and butter, the ultimate realization of what makes a Splash Damage game great. Ever since its release in 2015, Execution Mode hasn't fully gelled with our fast-paced, multiple objective-based vision, and so it's with a heavy heart that we've decided to remove it from Dirty Bomb. You can read more about this decision in a forum post here.
Execution will be in the game until the 22nd of August. To round it off with a bang, we're taking things back to where they all began:
FINAL ASSAULT EVENT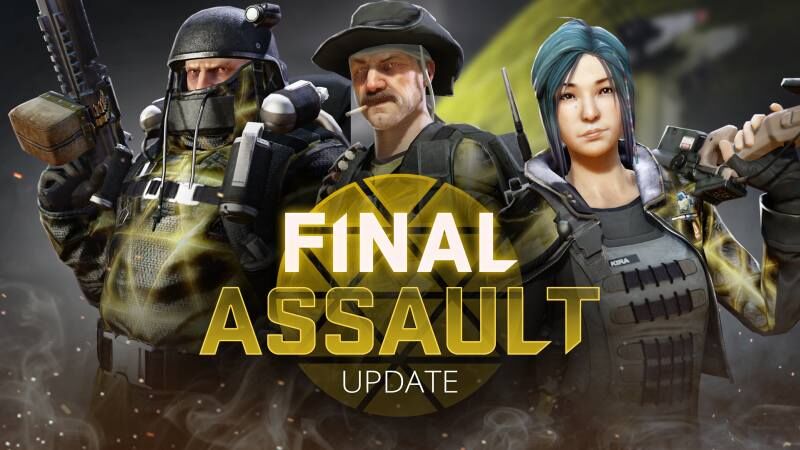 When Execution was launched, we introduced our first Limited Edition Loadout Cards: Containment War cards. To celebrate the mode's last hurrah, we're introducing Second Edition Containment War cards, including some small changes to the skins and cards.
From now until Tuesday 22 August, you'll be able to get your hands on them in a couple of ways:
FINAL ASSAULT EQUIPMENT CASES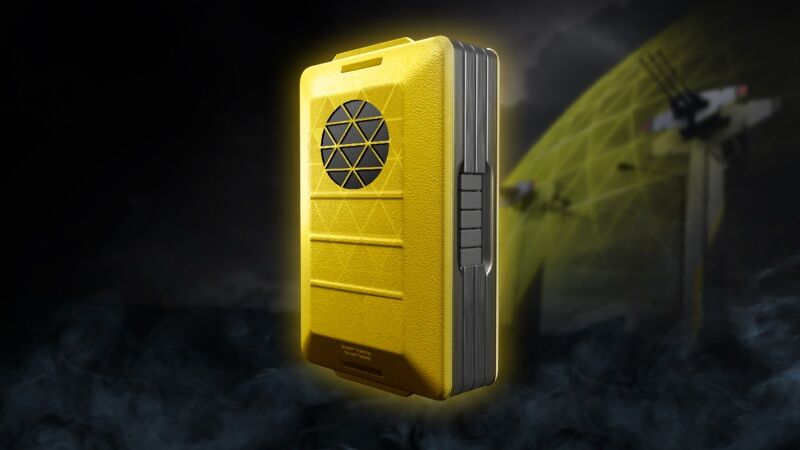 Every Equipment Case in the game has been replaced with a Final Assault variant, giving you a 2% chance of getting a Second Edition Containment War card.
These drop at the end of matches, and are purchasable with Credits in the Store.
FINAL ASSAULT EVENT CASES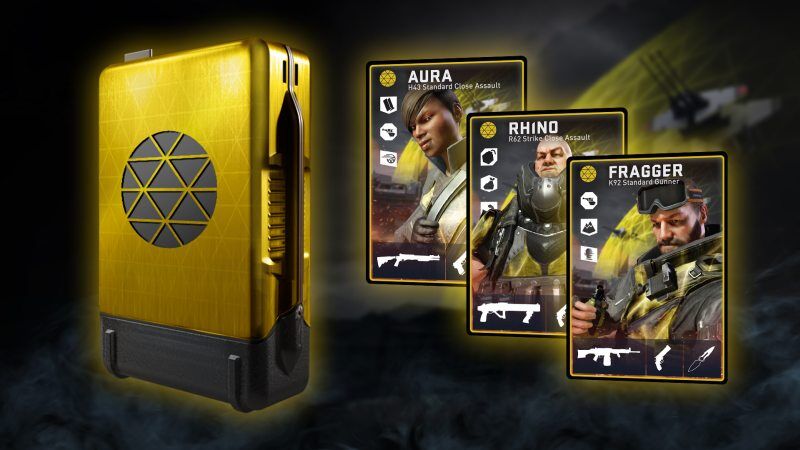 You can also pick up Elite Case bundles, which come with bonus Final Assault Event Cases that guarantee you a Second Edition Containment War card.
EVENT DURATION
London (BST): 11:00 Thursday, August 10 - 11:00 Tuesday, August 22
Los Angeles (PDT): 3:00 AM Thursday, August 10 - 3:00 AM Tuesday, August 22
Sydney (AEST): 8:00 PM Thursday, August 10 - 8:00 PM Tuesday, August 22
PHANTOM OBSIDIAN OPERATIVE
As if Phantom didn't think he was cool enough, he's had a full makeover with a brand new, super-suave skin available until August 22nd.
This includes a carbon-fiber katana skin; the first melee weapon to receive this treatment.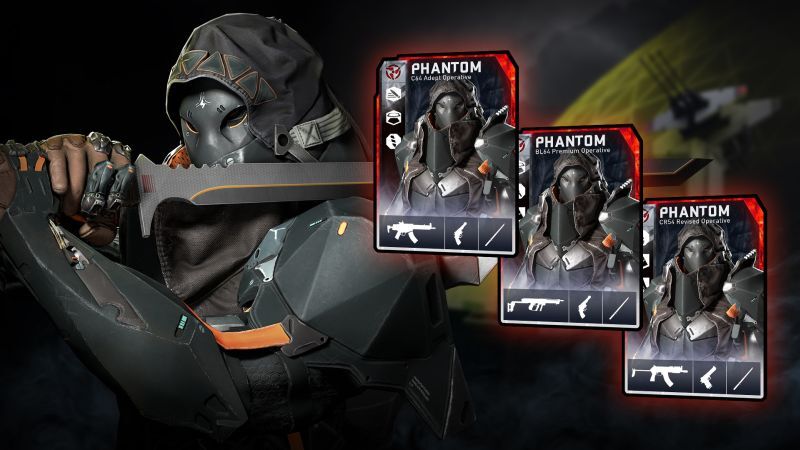 Pick up one of three Loadouts available in the store, or snag them all with the Merc himself before they disappear.
DAILY PLAY BONUSES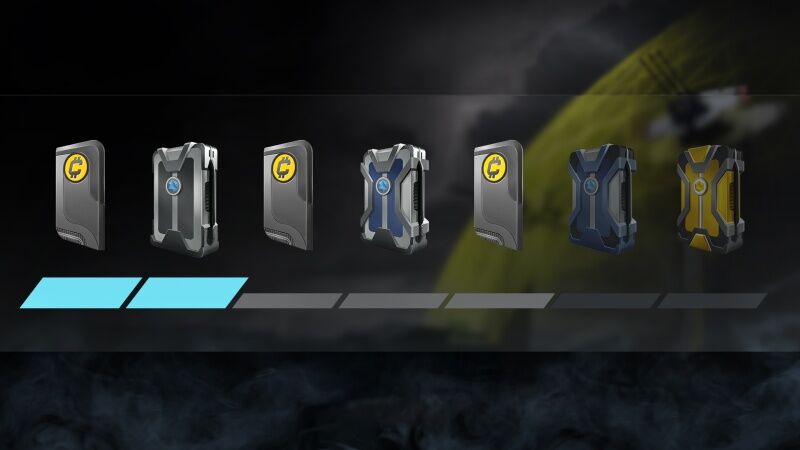 This update sees Daily Play bonuses being completely reworked. This new system rewards simply playing a single match, meaning you can play the modes you enjoy without players intentionally unbalancing matches to try to get a win.
Get rewards simply for logging in, playing a single match and then claiming your bonus - The more consecutive days you play over a 7-day period, the better your chances of unboxing a higher-rarity Loadout Card become.
PROXY CYBER-EYE CASE UNLOCK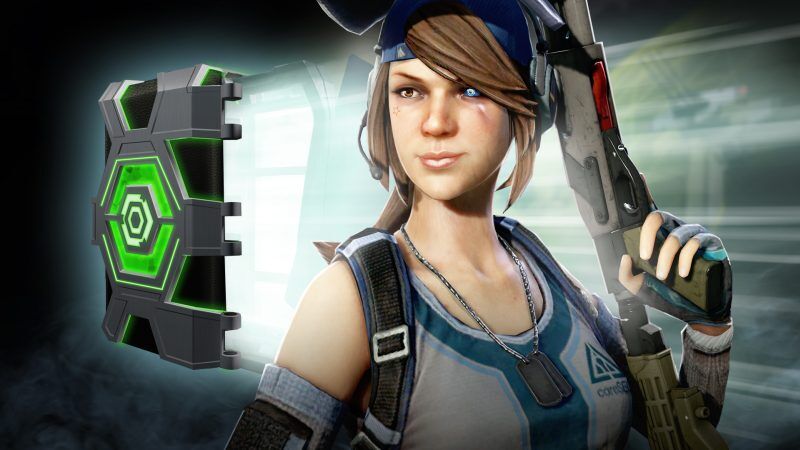 Turtle's work is complete! Proxy's new CoreSEC cyber eye is ready, and she's ready to go back to being binocular. If you purchased a Cyber Eye case during the Shell Shock event, it will now be unlocked in your Barracks and ready to open.
MERC BALANCE IMPROVEMENTS
After an extended hiatus, we're diving back into tweaking Merc balance to improve the game. These changes are the first of many we'll be implementing in the coming months - As always, we'd love to hear your feedback on these and potential future changes.
AIMEE
To bring Aimee's SNITCH Device closer to the effectiveness of Vassili or Redeyes abilities, we've made a slight improvement.
Reduced detection time to 0.3s (from 0.6s) This means that the SNITCH Device will detect players much more quickly when they come into line of sight
AURA
We've fixed a bug that prevents the Potent Packs Augment from improving the Healing Station. To compensate for that, we've reduced the base healing rates so that with the Potent Packs the Healing Station heals at almost exactly the same rates as before.
Reduced base healing rate to 26hp/s (from 31hp/s)
Reduce base self-healing rate to 24hp/s (from 28hp/s)
Fixed bug where Potent Packs Augment didn't improve Healing Station's rate
BUSHWHACKER
While effective at guarding routes and weakening the enemy, Bushwhackers Turret was still too easy to destroy, so we're making it slightly tougher and quicker to replace.
Increase Turret HP to 120hp (from 110hp)
Reduced Turret Cooldown to 30s (from 35s)
FLETCHER
We've made some changes to make Fletcher's Sticky Bombs less spammy, while still rewarding direct hits. Increased Sticky Bomb cooldown to 9s (from 8s)
Reduced maximum radial damage to 75 (from 85)
Direct hit bonus damage remains at 15
PHOENIX
Phoenix's Self-Revive is something that isn't be used nearly often enough, as vigilant players will make sure to finish him. While we don't want to make the ability more powerful directly, we do want to allow more opportunities to use it.
Reduced Self Revive Cooldown to 25s (from 60s)
STOKER
While Stoker's Molotov is very effective at area-denial, we've tweaked it to become more effective when used offensively.
Increased Molotov fire damage by ~10%
THUNDER
With Thunder continuing to be overly effective in combat, we've reduced his overall health pool and marginally reduced the impact of his Concussion Grenades once more.
Reduced health pool to 160hp from (170hp)
Reduced maximum blind and stun duration by 0.5s
TURTLE
Considering how long it takes to destroy Turtle's Shield, we felt that Turtle could too quickly spin up a replacement.
Increased Shield cooldown to 30s (from 25s)
Extender Augment now increases Shield size by 25% (from 20%)
ARTY / SKYHAMMER / SAWBONEZ / SPARKS
So that Health and Ammo Packs can be picked up by the next spawn wave if missed, we've increased the amount of time it takes for Packs to de-spawn once dropped.
Increased lifespan of dropped Health Packs or Ammo Packs to 35s (from 25s)
KIRA / STOKER
To make Ammo Stations more about good-placement than cooldown management, we've significantly reduced the cooldown for these Mercs.
Reduced Ammo Station Cooldown to 15s (from 25s)
BUG FIXES
RANKED
Fixed bug where players that failed to accept Ranked matches could get stuck in a broken party
Fixed bug where it was possible to invite more than 5 people into a ranked party
Fixed bug where players' ranks were not initially visible when joining a party
GENERAL
Fixed bug where explosive damage on mid-air players could cause instagibs
Fixed bug where Molotovs weren't dealing damage to Objectives
Fixed bug where Obsidian Operative skins could first be visible as a basic skin when spawning
GAMEPLAY
Fixed bug where the katana spin animation was not interruptable, and improved the animation itself
Fixed bug where shooting Turtle's shield counted towards accuracy
MAPS
Fixed bug where doors and lifts would move off-center slightly after each interaction
UI
Fixed bug where broken text was visible for the Taco Trinket in non-English languages
Fixed bug where numbers were cut off in the Spectator Camera Speed options panel